Article first published as A Little Kiss. Lots Of Tension. on Blogcritics
Mad Men Season 5. Welcome To 1966.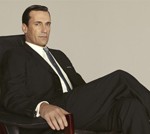 When we last visited the offices of Sterling Cooper Draper Pryce it was 1965 and the agency had made its debut on Madison Avenue. Then, SCDP suffered the massive loss of it biggest account, Lucky Strike, placing the agency's very existence in jeopardy. Now, it looks like SCDP is stabilized with a nice list of smaller accounts and few new business wins under its belt. Despite this stability, there still is an aura of uncertainty and angst that permeates the agency. The pressure to land big accounts is very apparent and creating tension at the agency. Everyone knows that all it takes is one big win to turn everything around.
A potential assignment from Heinz is a nice "over the transom" new business addition. The possibility of working for the American Cancer Society just at the time the anti-smoking movement is heating up has potential. In 1966 the Surgeon General's warning label began appearing on cigarette packages. Great pro bono work could be a magnet for new business. Perhaps the Topaz pantyhose account could be an unexpected boon in a hot fashion market of mini-skirts.
Now the challenge for SCDP is to move from relative stability to dramatic growth with larger accounts. Everyone is counting on Don to aggressively take the lead.
A Risky MIx Of Business And Personal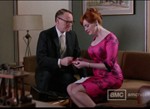 At the same time, personal lives were in upheaval and becoming even more intertwined with the operations of the agency. Joan was temporarily out of the office getting used to being a new mother and feeling very insecure about her future at the agency. Maternity leave and a guaranteed return to the job were not part of the package. Despite Lane's assurances that she was indispensible, Joan was uncertain and nervous about where and how she would fit in. Not a healthy frame of mind for the director of operations. Thanks to Don, Megan has a new role as copywriter reporting to Peggy. This new Ménage a Trois working relationship is definitely having a disruptive effect at the agency and is especially awkward for Peggy as creative supervisor. The late delivery of the coupon copy for the Heinz meeting and Megan's being upset over Peggy's "working the weekend" comments are examples of this tension. If Megan remains at SCDP, this does not portend well for future creative teamwork and harmony.
Pete Campbell is experiencing the weight of more responsibility at the agency which is being exacerbated by stress in his home life. This pressure weighs heavily on Pete and manifests itself in displeasure with his status as a junior partner, despite being head of accounts. This pervasive and volatile mix of negativity and angst are creating distraction and disharmony that could curtail the agency's growth.
Egos, Turf And Offices
Lane was doing everything he could to manage expenses at SCDP and that meant the partners had to give up some of the perks and personal attention they had become used to in more prosperous times. Today agencies thrive in open space, collaborative working environments. Mad Men thrived in isolated environments with personal secretaries and closed doors. The office was the symbol of power and status in the agency. When I was promoted to Vice President at DDB, in addition to the title and a raise, I was given a bigger office and a $5,000 decorating allowance. That was a big deal for me at age 26.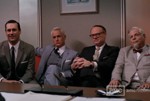 So, it is not unusual to see Pete Campbell's issues with Roger Sterling come to a head over the size of his office. But the office issue is just part of a larger, more prevalent source of conflict around turf and client relationships. Personal success and stability at an agency often depended on who "owned" the client relationship. Account people worked hard to attach themselves to clients in every way possible. Sometimes this meant that personal relationships took precedence over agency relationships with clients. Pete sees Roger's meeting with the Mohawk Airlines clients as horning in on his initiative to land them as an account and usurping his authority. Pete's veiled threats to not set up a formal meeting with Mohawk had its impact. While he didn't get Roger's office, Pete moved to larger quarters and he still stuck it to Roger with the phony 6AM Coke meeting. Healthy competition among account and creative teams are a natural, positive part of a successful agency. Negative and divisive relationships among partners are a disruptive recipe for failure. Pete and Roger must learn how to "just get along".
Don Going Soft?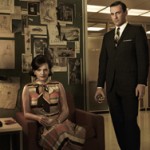 The scenario that played out in the conference room with Peggy, the Heinz client and Don captured a dynamic that was, and still is, a familiar scene in the advertising business. Creative teams put their heart and soul into developing an idea that they feel is great, the client should love and they get the blessing of the creative director. In this instance the big idea for Heinz is a "bean ballet" that hinged on a film technique that was new at the time and could be risky. While it would stand out on TV, it is difficult for the Heinz client to grasp. As Peggy and Stan presented the work, the looks on the faces of the clients are priceless. The Heinz folks are looking for more traditional, real life "bite and smile" creative. Peggy was fighting hard for the bean ballet but getting nowhere. Then, after a glancing nod of support, Don took charge, realizes that it's time to move on and promises new work.
Peggy sees this as Don caving in, loosing his creative spine and not having their back. Don is an expert at reading clients so he knows it is a lost cause and he makes the right move. Peggy is eager to be more assertive, like the "old Don", and it will be very interesting to see how this creative mentorship evolves.
Diversity. An Issue Then And Now.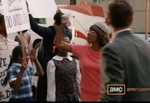 The season premiere opened and closed on a very real business and social issue of the day – diversity. In the '60's advertising was a "closed business" run by white guys in suits telling us what we should like and buy. For the most part, they hired in their image. The diversity gaps in the advertising business were especially blatant and just beginning to bubble up to the surface. By the mid sixties the color barrier had already been broken at a number of ad agencies including Y&R and B&B where I worked. Nevertheless, there were very few African Americans working at agencies and the attitudes portrayed at SCDP were prevalent back then.
There is no question that he advertising industry has made progress in diversity and the American Association Of Advertising Agencies (The 4A's) and other industry groups have been actively addressing this issue. Unfortunately, even today, the diversity gap remains as a gaping hole in the advertising business and there is still a long way to go. In 2006, the New York City Human Rights Commission reached settlements with a number of major agencies that required them to set and meet specific numerical African American hiring goals in the ranks of their creative and managerial staffs. Then, in 2009 the N.A.A.C.P launched The Manhattan Project and issued a report entitled "Research Perspectives on Race and Employment in the Advertising Industry". It concluded that African Americans remain underrepresented on Madison Avenue and represent only 5.3 percent of managers and professionals at agencies. African Americans earned 80 cents for each dollar earned by their white counterparts. Yes, we've come a long way and there's much more to do. Given the prevalence of this issue in the '60's, we're sure to see race relations and diversity being a recurring theme this season.
The title of the next episode is "Tea Leaves"….the kind you read, drink, or smoke?