Article first published as Mad Men: Back (Finally). And Back To The Future. on Blogcritics.
"Living" Social. Google Re-Imagines Mad Men Ads Through Digital Eyes.

Mad Men Season 5 is upon us and we're ready to head back to the '60s—the Golden Age of advertising, decades before the internet, digital communications and social media. Mad Men is quintessential 1960s Madison Avenue, yet the show has been enthusiastically adopted and adapted by today's digitally enabled viewers as well as modern Mad Men (and Women). While the narrative of Mad Men is firmly entrenched in the '60s, the show enjoys a thriving present life in both the real and virtual worlds of its fans. These connections flow from an enduring interest in the ad world, a fascination with the '60s and, perhaps most of all, the deep, character driven, storytelling prowess of the show. Compelling content brilliantly executed. And now, Google has enabled a way for us to experience the iconic advertising of the Mad Men era interpreted through digital eyes – a tribute to the creativity of the real Mad Men who lived it. Compelling content brilliantly re-imagined.
Compelling content and characters transcend time and place. 
Follow Us @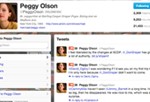 As expected, the show set up its own @MadMen Twitter account and it has a nice following. But something unusual happened as Mad Men took hold. Independent of the show's marketing campaign, MadMen characters started popping up on Twitter with their "personal" accounts. We got to meet @dondraper, @peggyolson and the rest of the cast in real time. These "unauthorized" Mad Men Twitter personalities were created, painstakingly brought to life and cared for every day by dedicated fans and followers. Fictional characters from the '60s actually live a fan generated parallel life in the present day. Their digital personas became intertwined and interconnected with their lives on the show and a Mad Men character driven Twitter sub-culture evolved.
Interestingly, when these "unauthorized" Twitter accounts popped up, the network acted like they were stuck in the '60s and moved quickly to shut them down. But reaction from viewers to bring them back was so strong that the decision was reversed and they live today in our digital lives. Don Draper's sobering welcome to the power of social media.
Creativity Inspires Cultural Infusion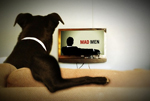 Beyond these personas on Twitter there are fan generated Facebook Fan pages, stunning Pinterest boards, countless blogs, You Tube Videos, etc. The scope and creativity of this fan adoption and adaptation is impressive. Mad Men infographics visualize a range of facts and information from a chronicle of events across each season to a Wired magazine "who slept with who" bed hopping show all. There are "What Would Don Draper Do" articles about everything from problem solving to Occupy to advertising the Olympics. An article in The Huffington Post covered the growing popularity of a new meme that one-ups #Tebowing…#Draping. These are fan created visualizations that mimic the iconic Don Draper silhouettes from the show's advertising. A recent Wall Street Journal article chronicled a wide array of planned virtual and real world events to mark the return of the show. There's even a special "Mad Men In The City" package being offered by The Roosevelt Hotel where Don Draper stayed after his wife Betty threw him out. Mad Men has found its place in our present day virtual and real world culture.
Are we ready for season 5? You bet we are!
Google Meets & Morphs The Ads Of Mad Men
All of this is exciting, entertaining and fun. But as an ad guy and a Mad Man, one of the most interesting and unique events that captured my attention isn't about the show. It's a very special project that celebrates the advertising campaigns that were created in the Mad Men era.Google's Project Rebrief: "A grand experiment whereby Google partnered with five of the brightest "old-school" legends from advertising to re-imagine their most iconic creative work from a half-century ago for the modern web."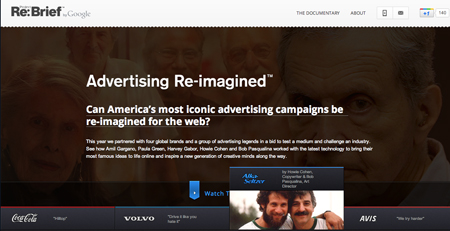 Thanks to this marvelous undertaking by Google, we get to see famous campaigns for Coke, Volvo, Avis and Alka Seltzer re-imagined and executed for the digital age. What makes this especially wonderful is that Google pairs up the original Mad Men that created the ads with Google's young, bright, energetic creative staff. We watch them work, interact and ideate. Magic happens.
Thanks Google, Amil Gargano, Howie Cohen, Bob Pasqualina, Paula Green and Harvey Gabor for making this digital Mad Men adventure possible. Shining Lights…still.
What Would Don Draper Think
This is indeed an exciting time to be bringing great advertising ideas to life. Technology enables better, more personal ways to tell stories and connect with people 24/7 wherever they are. The Project Rebrief melding of traditional and digital ideation and media creates a very special story and a captivating journey that even Don Draper would have loved. Sure, Don would have been a bit skeptical at first, just like some of the real life Mad Men and Women in this series. But in the end, Don would have enjoyed more than a few cocktails to celebrate the end results and seize the opportunity to lay down some Draper dogma at SCDP:
1. Big emotional ideas are at the heart of all great advertising
2. Passionate invested people create & bring great ideas to life
3. Big ideas stand the test of time and travel well across all media
4. It still all comes down to the art of great storytelling
Sage advice that modern Mad Men would be wise to follow. No matter how much things change, some things stay the same.
Season 5. The story continues.