Article first published as Mad Men: A Big Win and Cultural Enlightenment on Blogcritics
Youth Culture Meets The Culture Of Mad Men
This week's Mad Men episode highlights the emergence of the '60s youth culture and its infusion into the advertising business. It foretells the powerful and positive disruptive effect that the culture of youth will have on the advertising business. It really hit home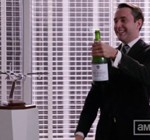 with me. In 1966 I was 23, had celebrated my first year anniversary with Benton & Bowles and made the move from media to the account group. My newly hired contemporaries and I were right in the middle of this period of disruptive change. We came into the agency world of the '60s with a mix of awe, excitement and willingness to challenge the traditional values of the people that hired us. This was a transitional period characterized by collisions of old lions and upstarts like we see with Roger and Pete. Traditional creative tastes were bumping into new "wacky" ideas like the Heinz Bean Ballet. The experimental and experiential attitudes of newly hired Mad Men were often at odds with previous generations. Overall, however, these clashes of values, cultures and ways of working were positive experiences that ushered in a creative revolution and the new age of advertising in which I have been privileged to work for the past 45 years.

During my 5 years at B&B (1965 through 1970) I was fortunate to have mentors like Jack Bowen, Roy Bostock, Bern Kanner, Whit Hobbs, Tom Griffin, Joe Bacal, Sid Lerner, and others who were open to change. They encouraged us to be a bit brash, challenge the status quo and come forward with new ideas. We all built our careers by learning from them and then blazing our own paths. People and relationships have always been the "fuel" of the advertising business. Challenges to the status quo inevitably lead to great creative work. That has not changed.
Cultures Collide And Co-mingle
At the urging of the Heinz client, Don and Harry are pushed into the world of Rolling Stones concerts and pot. In the '60s the use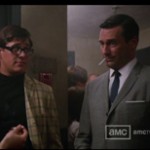 of music and celebrity endorsements in advertising was already part of the creative repertoire on Madison Avenue. It was a golden age of theme songs and jingles and Benton & Bowles was home to one of the best musical creative talents of the time, Roy Eaton. Emerging in this episode we see the beginnings a bigger and broader movement to attach brands to the cultural mores and values of the time. In the '60s it was the societal values of youth and their music that emerged as forces to be tapped into. Today, the use of popular songs as brand themes and musical celebrities is commonplace. For Don Draper, however, it is disturbingly uncomfortable
Also, the work hard play even harder ethos of the time started to take on a different tone that spilled over into the office and carried on after hours. Lucky Strikes and Johnnie Walker were suddenly sharing offices with "Mary Jane" and "Lucy In The Sky With Diamonds". This shift definitely influenced the nature of the agency business, the people that were drawn to it and the creative output. And, it was a hell of a lot more fun.
A Big Win = Big Issues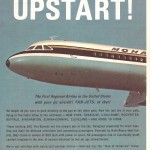 SCDP landed the big account the partners were hoping for. Mohawk Airlines was in fact a leading regional airline at the time and a plum account. Mohawk operated out of New York City's Idlewild airport (JFK today) and in 1965 became the first regional airline to inaugurate jet aircraft service. The Mohawk win means a lot for SCDP. It will deliver substantial revenue to the agency alleviating some of the financial pressures, provide a PR opportunity to build SCDP's reputation, demonstrate stability for skeptical potential clients, enable the agency to reward its loyal staff and hire new creative talent. These are very positive ripple effects created by just one big win and great reasons to pop the champagne corks. The Mohawk win also is the catalyst that intensifies some touchy relationship issues swirling around the agency. Rather than bringing Roger and Pete together, the Mohawk win is driving them farther apart. The protégé is upstaging and upsetting the teacher and Roger is having great difficulties handling it. Pete is the future. Roger is the past. Hopefully they can come together to create a peaceful and productive "present" at SCDP.
Still A Man's World
The Mohawk win also means that Peggy is getting more responsibility and can hire her own creative talent. She sees this as an opportunity to build a team around her, establish a bigger leadership role and create a following of her own. Comraderie and the cult of creative personality are very important in the ad world. However, the manner in which the opportunity is presented to Peggy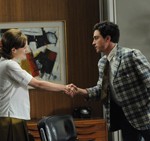 does not sit well with her and is symptomatic of the chauvinistic attitude of the time. Peggy is directed to hire a male copywriter since the partners feel the client will be more comfortable working with a man. This also leads Peggy to question what her role will be on Mohawk. The roles and responsibilities of women in the Mad Men days were unequal and unfair and the discontent is beginning to boil over at SCDP. (For more on this see my prior article, The Women of Mad Men Start To Roar.) Peggy falls in line and hires Michael Ginsberg, a bold, brash Jewish copywriter. Mr. Ginsberg will definitely add a new dimension to SCDP.
Matching agency people to client comfort levels was common practice in the '60s. It was openly discussed and I heard these types of comments and hiring directions quite often. Preferential "matching" also extended beyond gender to ethnicity, religion, sexual orientation and education. I can recall an instance in 1967 when I was told I would not receive a promotion to a plum account because I did not have an "Ivy League" education. I attended Pace College and CCNY and was told this was not nearly enough of a pedigree for the client. I accepted it and moved on. We'll see how Peggy deals with her role on Mohawk.
The agency is definitely more stable, on the right growth path and trying to keep in touch with the times. The comfortable, familiar waspy world of Don, Roger and Lane is changing with the addition of younger more outspoken talent, a Jewish copywriter and an African American receptionist named Dawn.
Is this the dawn of a new era at SCDP?