Article first published as Don Draper – Master Of Creative Deception on Blogcritics
My accounts are bigger than yours. If you can't outspend them, fool them.
In the last episode, Pete Campbell's maneuvers with his father-in-law turned a potentially devastating loss of Clearasil (due to a rather loosely defined conflict with Pond's) into a full-blown big win for more of the company's business. A $6 million dollar account that would strengthen Pete's partnership role at Sterling Cooper Draper Pryce and also set him and Roger up for a conflict. SCDP was on the move; everyone was working hard to pull in more new business; the partners were staking out their turf and tensions were high. For Don, this also meant that he had to continue flexing his creative muscles and keeping his creative reputation in high gear. All of these dynamics were brought into play with SCDP's entrance into the pitch for the Honda motorcycle account.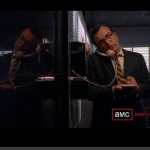 The stage was set when Don received a call from the NY Times reporter asking his reaction to rival agency Cutler Gleason and Chaough landing the Clearasil and Jai Alai accounts. "Every time Don Draper looks in his rearview mirror, he sees me," the reporter quotes CGC's Ted Chaough as boasting. "I've never heard of him," Don replies. Then Don finds out that SCDP would be up against this agency in the Honda pitch. Let the games begin.
Back then the real life reporter for the NY Times was the legendary Phil Dougherty. You always took his call, he asked direct, fair questions, and you gave Phil straight answers. Just about everyone in the business had great respect and affection for Phil. I am sure Don Draper would have felt the same.
New Business – Beating The Odds
The soliciting and winning of new business was and still is the lifeblood of the agency business. The quest for new business was shifting into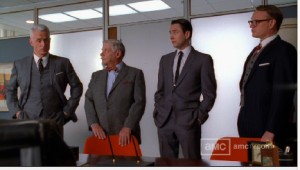 high gear in the '60s and '70s. It was becoming an art and creating its own theater. The road to a new business win was a long one and the odds of success were not great. First an agency had to make it on to the consideration list (usually about 10 agencies), then be selected as a finalist (3-5 agencies), and ultimately the agency had to prevail in the final pitch. On average in any given year, an agency would perhaps convert two out of ten new business pitches into client wins. Often the same 5-6 agencies would go up against each other, so the rivalries were pretty intense
Every so often one or two agencies would break out of the pack, get hot, and go on a new business winning streak. Sometimes that happened with the larger, more established agencies, but it was usually more prevalent with the new, up and coming companies. In the '60s and '70s agencies like Carl Ally, Norman Craig & Kummel, Wells Rich Green, Papert Koenig Lois, and Delahanty, Kurnit & Geller, were some of the ones to beat. For Don Draper and SCDP, Cutler Gleason and Chaough seems to be emerging as their prime competitor. The pitch for the Honda account would be the next meeting of their creative minds.
Much More Than A Presentation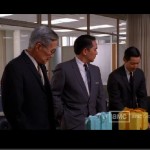 The final presentations of a new business pitch were all-out, full blown battles in which campaign ideas, agency reputations, showmanship, and one-upmanship were on full display. It was, and still is, an exhilarating and intensely competitive game and many stellar careers were launched on successful performances in new business pitches. The clients set the specifications as to what would be presented, the ground rules on formats and levels of finish, and sometimes would provide a small fee to cover out of pocket expenses. These fees were token amounts that would not come close to covering expenses but would usually mean that clients would be able to keep the ideas presented to them. (The ad business gives away an astounding amount of ideas and IPs on "spec" in the pursuit of new business — that's a story for another time.) In the Mad Men days most agencies played by the rules and production of finished commercials was rarely part of a final presentation. As time progressed, production of finished commercials became the norm and the level of finish and depth of work has grown substantially. Today, it is not unusual for agencies to spend $200K to $500K+ in out of pocket expenses pitching big new accounts. Don Draper would have been salivating to have that kind of money to play with. In the case of Honda, the ground rules were no finished commercials and the compensation was $3000.
It's Not Just Business…It's Personal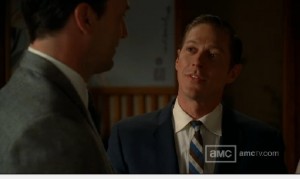 Despite Roger's outrageous behavior with the Honda client, SCDP was still technically in the pitch, but everyone recognized they didn't stand a chance. Don followed his creative instincts and urged his partners to break the rules, spend their own money, and produce a finished commercial that would win the day. "Fireworks." Unfortunately, the finances at the agency wouldn't allow for that. That's when Don's personal competitive need to win kicked in, and he decided to play head games with his upstart creative competitor. He used some inside industry information and part of the agency's $3000 payment from Honda to dupe the other agency into thinking SCDP was breaking the rules and producing a TV spot. Of course, Ted Chauogh had to one-up Don. Don would use that as a way to make an impression of honor and redeem the agency with Honda. It worked. As it turned out, Honda motorcycles stayed with Grey and the pitch was a smokescreen for the upcoming car account pitch. SDCP was in and Don, Pete, and Lane all basked in the success.
The dynamics of this situation reflected what often happened in new business pitches. Things weren't always what they seemed to be on the client side — agencies would do whatever it took to get intelligence about the competitors' campaigns, personalities slugged it out, and the egos

often met each other in the lobby coming in and out of the presentations. The head games were classic and the art of second guessing was elevated to new levels. Probably one of the best at all of this showmanship and a great creative leader was Jerry Della Femina. His agency turned out great creative work, and Jerry was a master of head games and using the power of the press. Jerry was a great friend of my mentor and partner, Shep Kurnit, and Shep always had a story to tell about his antics. Jerry wrote a wonderful book about his exploits in the Mad Men days, From Those Wonderful People Who Gave You Pearl Harbor. It's just been reissued. I recommend you pick it up. You won't be disappointed.
Oh, and by the way, it looks like Don may be embracing research at the agency and attending a few more focus groups now that he's found out that Faye is single. Let's see.