Article first published as Mad Men Episode 4: "To Have and to Hold" on Blogcritics.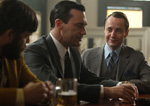 This Mad Men episode is ripe with conflict, hypocrisy, and risk taking. Racial issues are brought to the fore, agency loyalties are up for grabs, client accounts put at risk, and internal agency strife is amplified by secrets, resentments, and betrayal. All in all, "To Have and To Hold" is a fast moving, enjoyable episode, particularly from an "inside the agency" perspective. A series of events start out with the potential for positive business results but ultimately spiral into an intertwined web of unintended negative consequences. At Pete's urging Don agrees to a secret pitch for Heinz Ketchup with dire consequences. Ken scores a minor victory on Dow and then gets crushed by Heinz. Harry hits a TV special home run that he turns into a showdown with the partners and a put down of Joan. Peggy's disloyalty to SCDP is exposed as she and CGC also strike out on the Heinz pitch. Roger is still trying to paper over problems with cash. Don takes hypocrisy to a new level by turning Megan's acting good fortune into an infidelity issue while he continues to bed their neighbor's wife, Sylvia. Just another ordinary week on Madison Avenue in NYC.
Forsaken Loyalty, Lost Client, Shaken Trust
Pete sets up an off site private meeting for he and Don with Timmy the Heinz Ketchup manager. Timmy agrees to "an exploratory" engagement with SCDP. Don still is not comfortable with forsaking his loyalty to Ray Geiger and risking the loss of Ray's business. Timmy reassures them he has clout at the company and can easily handle Ray. If SCDP wins Ray will get in line behind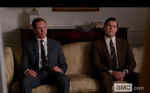 the big brand and if not, their secret cabal is safe with him. They agree to the exploratory and keep it isolated at the agency with only Stan assigned to work on the pitch. It's code named Project "K" and is assigned a private "blacked out" workroom at the agency that has the staff wondering and buzzing. Stan also uses Project "K" as a reason to further his penchant for pot inspired creativity with Don's blessing. Confidential and clandestine pitch preparations take place at agencies regularly. They require deft management and intense work in a concentrated period of time. Very often these secret projects happen outside the agency at an apartment or hotel suite. I've participated in a number of these including a pitch at DDB for the Schick Razor account while we were handling some minor Gillette toiletries brands. We won Schick and Gillette faded away.
Pete's eagerness to throw caution to the wind is predictable, but Don should have known better than to be taken in by Timmy's bravado. There are no secrets on Madison Avenue or at clients. Agencies love getting an inside track, but, win or loose, SCDP would have a Heinz problem. Don and Pete take the risk assuming it is a private pitch with no other agencies involved. The fact that it is a competitive shoot out shocked SCDP and changed the game completely. They took the bait from Timmy and SCDP suffered the consequences. They didn't get the ketchup business, Ray finds out and fires the agency without the standard 90 days notification, Ken gets blindsided, and Don takes blows to his ego and loyalty cred.
The Heinz Bakeoff Goes Bust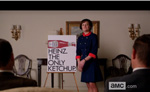 At the pitch meeting, Don, Stan, and Pete sell their Ketchup idea well and are confident in their "Pass The Heinz" campaign idea. As they leave the pitch room at The Roosevelt Hotel (a popular place for these meetings) they are shocked to see Peggy and Ted Chaough waiting to go on next. So much for the inside track and client confidentiality. At that moment Don realizes that Timmy screwed the agency and he knows that it's over. Running into the competitive agency before or after a pitch is a common occurrence. New business pitches often take on the tone of a prizefight and become very personal. Sometimes agencies are aware of their competition and these encounters are at best awkwardly polite. The meeting of SCDP and CGC is especially awkward. Don sees that he is up against Ted and this time Peggy has Ted's back not Don's. Don's staying behind to eavesdrop and listen to Peggy's pitch speaks volumes. Don hears Peggy introduce CGC's campaign idea with a powerful set up she learned from Don. "If you don't like what they're saying change the conversation." Peggy shows a board with a big picture of the Heinz Ketchup Bottle and the line, "Heinz. The Only Ketchup". Don's reaction is laced with a sense of betrayal, loss, and pride. You can almost read Don's thoughts. "Well, if she going to steal from someone it might as well be from the best."
Personally, I liked Don's campaign more than Peggy's but they both learn very quickly that neither one hit the mark. Ted Chaough and Peggy  join Don, Pete, and Stan at a bar after the bakeoff and Ted announces that a third agency, J. Walter Thompson, wowed them with a big idea and was awarded the account on the spot. Perhaps we'll get to see the big idea as the Heinz saga unfolds. In reality, on the spot decisions would sometimes occur in the Mad Men days, and it was made bit easier since agency compensation was tied directly to media commissions. In today's world of process heavy agency searches, heavily influenced by fees and complex compensation systems, instant decisions are a rarity.
Ken Cosgrove is having a hard time managing the Dow chemical account and father-in-law client, Ed Baxter. Ken has to deal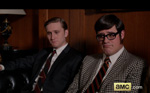 with his father-in-law's constant badgering about how Dow chemical is under siege in the media and on campuses for its role in the Viet Nam war. This casts a shadow over SCDP's advertising for Dow's household cleaning products and Ken shares his frustration with Harry. "If he wants people to stop hating him, he should stop dropping napalm on children!" Harry comes to the rescue with a recommendation for an image building television special sponsorship tailor made for Dow. Ken and Harry meet with Ed and propose that Dow Chemical sponsor a "Broadway Joe on Broadway" TV special starring Joe Namath with guest stars like John Wayne and Joey Heatherton. They sell it as an uplifting, perfect marriage of celebrity and patriotism with the theme "Dow makes family products for the American family." In addition to making the client happy, the media expenditure behind the special is $150,000 earning SCDP over $22,000 in incremental commissions to SCDP. In the real world 1968 this could definitely have been a valid sponsorship option for Dow. Specials on the TV networks were very popular, and Joe Namath was a hot "All American" celebrity. Ken and Harry's victory celebration is short lived. Harry's clash with Joan leads to a showdown with the partners and Ken gets hammered by Project "K" and the loss of Heinz.
Harry has a big chip on his shoulder and feels that he deserves morerespect and a full partnership. Harry has never been
politically savvy and his impulsive outburst in the partners meeting is crude and ill timed. Harry turns his recent $150,000 success with Dow into an ultimatum for a partnership and a demeaning, embarassing attack on Joan. "I'm sorry that my accomplishments happened in broad daylight," Harry says. "The next time this group is called to order, I expect to be sitting at this table." Harry is sensing he might be appreciated more elsewhere and rolls the dice. His ultimatum does spur the partners to action and they present him with a $23,500 check representing the full agency commission earned on the Dow special. Given that Harry's annual salary is $22,000 this is a very significant gesture, but clearly a partnership is not in the cards. Harry accepts the check and says, "I've also earned a partnership. I really hope some other firm doesn't figure that out first." We might see Harry moving on to an agency that gives him more respect.
In trying to bring more discipline to the agency Joan attempts to fire Harry's secretary, Scarlett, over falsifying time cards and is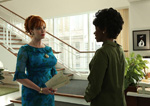 considering the same for her accomplice, Dawn, Don's African American assistant. This is discussed in a confused and heated partner meeting and Pete reminds everyone that NYC's Commission on Human Rights is investigating the advertising industry for minority hiring practices. Pete puts the issue to rest when he asks—"Can we really afford to fire one of our few black employees when the city is demanding that we hire more?" Poor minority hiring practices have been a persistent issue in the industry and even today the industry still remains under investigative scrutiny. The race issue is now on SCDP's conference room table and is sure to play a bigger role as the season develops.
Joan is struggling with her "in name only" partnership role at the agency and questioning her accomplishments. These self-doubts are exacerbated by Harry's performance at the partners meeting. Joan and her friend Kate discuss their respective careers and go out for a night on the town. They wind up partying at the Electric Circus located on St. Marks Place in the East Village. The Electric Circus was a gathering place for New York's "tune in, turn on" culture. It was described as "New York's ultimate mixed-media pleasure dome with hallucinogenic light baths and a hedonistic atmosphere." This is hardly the place one would expect to find Joan, but it did help bring things into focus for her. In bed the next morning Joan tells Kate, "They still treat me like a secretary." Kate responds, "It's right in front of you for the taking." Joan looks like she is ready to reach out and grab it.
Pete's final words in the bar after learning the full extent of the Heinz debacle are "It was a risk worth taking." We'll see.