Article first published as The Doorway To High Times And Unhappiness on Blogcritics.
Season five ended in the Spring of 1967 with the principals of Sterling Cooper Draper Pryce considering new office space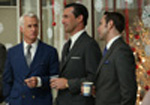 and contemplating what promised to be a bright future. As Don said to the SCDP staff, "Prepare to take a great leap forward". Sadly that leap forward would not include Lane Pryce but it is good to see that his name is still on the door. The title of my article covering the season five finale was "The Women OfMad Men Finish Strong". Season six picks up in December 1967 and continues that arc with a strong start for both Peggy and Megan. Joan is comfortable in her role as a full partner and it's a bit disappointing that she didn't play a more prominent part in the premiere.
As 1967 drew to close, the country had experienced San Francisco's "Summer Of Love", the Civil Rights movement was picking up steam and the Vietnam War was escalating. "The Doorway" puts the tensions, changing values and social unrest of that time front and center. Pot was also going "mainstream" and is prominent in the premiere. Don and Megan toked up in Hawaii, Peggy took a few hits and Don was openly tolerant of "the smell of creativity" in SCDP's creative department. In past seasons Mad Men creatives were still dressing conservatively and content with getting their alcohol fix from the boys in accounts. By the beginning of 1968 the "let your hair down and get your spirits up " working atmosphere was in full swing in many agencies on Madison Avenue. Mary Jane was right alongside Johnnie Walker and the creative department was almost always the epicenter of it all. When Don returns to the agency from Hawaii and steps into the SCDP creative department he clearly stands out as the old school creative director among the long hairs, beards and pot heads.
The Don And Megan Soap Opera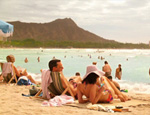 Don and Megan are in Hawaii on an agency orientation trip for SCDP's Sheraton Royal Hawaiian client. This trip is definitely a step up from their season five "Faraway Places" excursion to check out a Howard Johnsons. How things have changed. In Hawaii Megan and Don enjoy a few joints in "paradise" rather than arguing in a HoJo parking lot. Megan is the soap opera "celebrity" center of attention and Don is remarkably quiet and passive. Don has accepted the irony that Megan's fulfillment and fame is made possible by the ad business she disdains. Don orchestrated Megan's role in an SCDP commercial and agencies like SCDP played a critical role in the success of the soaps. The '60's were a time in which the advertising firms created and produced television shows for their clients. As an account man on P&G brands at Benton & Bowles one of my responsibilities was working with B&B's programming department, headed by the legendary Lee Rich. I planned and monitored the soap opera ad schedules for Crest, Zest and Charmin. To my delight the Vice President in charge of these productions at Benton & Bowles was the famous child actor Freddie Bartholomew. Fred had long since left acting and was a successful and respected television executive. He produced or directed several television soap operas including As The World Turns, The Edge Of Night and Search For Tomorrow. I remember Fred as a charming and talented man who helped me learn the ropes and he definitely helped make a tedious task a bit more interesting.
Peggy Takes The Stage And Channels A Better Don
Peggy's move from SCDP to CGC is much more than a job change. She has stepped into a highly visible position with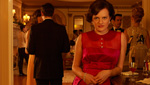 more responsibility on a bigger stage and leading her agency's Super Bowl creative effort for Koss headphones. I'm not sure if Koss actually ran an ad in Super Bowl II but it certainly is the type of client that would have anted up the cash to do it. Super Bowl II in 1968 was a far cry from the media and commercial extravaganza of today, but even then the Super Bowl was emerging as a platform in which to showcase creative advertising. An audience of 39 million viewers watched the Packers take on the Raiders in Super Bowl II and a commercial in the game cost $54,000. A big deal at that time and it is Peggy, not Don, creating a spot for the game. Forty five years later, a 30 second commercial in Super Bowl XLVII cost $3.800,000 with an audience of 113 million viewers. Costs and audience size may have changed, but the thrill of being the creative person who scores big with a hit commercial in the Super Bowl is the same and Peggy delivers.
Peggy is confronted with a creative director's nightmare. An already approved and shot Koss commercial, "Lend Me
Your Ears", gets caught up in the cultural crosshairs of the day. The commercial features toga clad actors wearing Koss headphones with copy that begins with "Friends, Romans, countrymen lend me your ears". Burt Peterson calls Peggy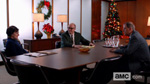 with the bad news thatThe Tonight Show featured a comedian making jokes about American soldiers cutting off Viet Cong ears and the client has demanded the spot be recut and revised to eliminate the potentially controversial ear reference. Peggy's boss,Ted Chaough, is unreachable on holiday so she is left to fend for herself. At first she tries to convince the client that it is an imaginary problem and that Koss should stick with the ad. The client insists and presents Peggy with a practical solution that would extinguish the creative spark of the spot. Peggy handles the client brilliantly by convincing him that Koss needs a "great ad not an expedient solution" and that with a little more time she can make the commercial great again.
Peggy and her team work over New Years and she pushes them hard.("If you can't tell the difference between which part's the idea and which part's the execution of the idea, I have no use for you.") Then, in true Don Draper fashion, Peggy gets the inspiration for a great idea when she observes Abe lost in his music wearing Koss headphones. She remembers one of the actors clowning around during the commercial shoot and she scours the outtakes to find the footage. Ted visits the office to thank them for working on New Years Eve. Peggy shows him the outtakes of the actors antics on the Moviola editing machine and reads her new copy over the film. "Sound so sharp and clear you can see it". Ted is floored by it. He tells Peggy that she is good in a crisis and how much he appreciates her work. Peggy knows that this would never have happened with Don and savors the moment. I have witnessed many scenes like this over the years. People crowded around the small screen Moviola, film running through the editing machine and creative teams improvising and creating on the spot. That's a very special experience that still happens today albeit in a more spacious room filled with high definition digital screens. Making great ads. That's what it's all about.
Don Channels A Darker Moodier Don
Don is also faced with creative challenges but he fails to rise to the occasion and there is a sense that Don is out of touch and loosing his touch. We first see Don berating his creative teams over Dow no-fume oven cleaner ads with headlines like "Love Is In The Air". He launches into a rant about "wearing out" and "trivializing" the word love and his rambling admonitions leave his team bewildered. It's only when he's interrupted by a visit from his neighbor, Dr. Rosen, that Don stops, reverses course and tells the team the ad is fine. Don Draper expediency.
Don's other creative moment comes when he presents a new campaign for the Royal Hawaiian Hotel to the Sheraton client. Don softens them up with talk of his recent visit to Hawaii and the very special feelings that have stayed with him. He tells the client that the Royal Hawaiian is more than a hotel and staying there is a transformative, sensory experience. So far, so good. Don then tries to sell them a campaign that uses the tag line, "Hawaii. The jumping off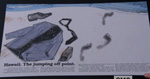 point." The ad features a visual of footprints leading away from a man's clothing left on the beach. The clients are taken aback and tell Don that the ad conjures up images of death and reminds them of the suicide in "A Star Is Born". It's obvious to everyone, except Don, that the ad is morbid and funereal. Don doesn't see it that way and persists in selling his "vision". Finally, Pete steps in with his account man assurances that the agency will get to work "conjuring up" other ideas. Don seems bewildered and it's apparent that Don is really struggling with his own rebirth out of the death of the real Don Draper. Don's demons and misgivings are affecting his creative judgment and leadership. An obviously annoyed Roger deals a stinging slap in the face to Don with a classic Sterling zinger. "We sold actual death for 25 years with Lucky Strike. You know how we did it? We ignored it."
Death, morbidity and angst ran through the entire premiere and given the turbulent times ahead it's pretty certain this will continue throughout this season. It will be interesting to see how far up Peggy can go and how far Don can slip before his partners call him out. There is tension between Roger and Joan lurking in the background. Ken seems ready to come down hard on Ron Benson the new account executive and Pete is sure to be as volatile as ever. And Don will have to deal with an unpredictable slighly weirder Betty.
Welcome to 1968.