More Year-End Moments To Remember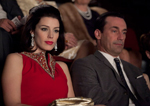 Megan takes Don to watch the play America Hurrah and he becomes increasingly uncomfortable as the actor rants about advertising and commercials. Don sees it as a slap at him and his profession. It also reminds Don of Megan's disenchantment with what he does for a living. "No one's made a stronger stand against advertising than you." There's no doubt these emotions contribute to Don's reawakening.
Anything can happen at year-end agency meetings. On past Mad Men episodes we've seen everything from wild parties to humiliating moments and bad speeches. Before Don's pep talk, this year's SCDP staff holiday meeting was shaping up as a boring and confusing mess. The bonuses were announced against a backdrop of the Mohawk cut back and a deferment of partner bonuses so the staff was confused and underwhelmed. It took a classic Roger Sterling quip to rescue that moment. "You're all getting Christmas bonuses and we aren't". The staff smiles, Lane cringes, Don takes charge.
Lane's moment of reckoning is next