Article first published as Mad Men: Megan Leaves, Cool Whip Tops It Off on Blogcritics.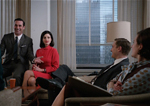 This week on Mad Men, Megan discovers her talent and pursues her passion; Peggy stands up to Don (again); music plays its way into the creative department, and Cool Whip tops it all off….especially for me. In 1966 when I moved from Media to the Account Department at Benton & Bowles, my very first assignment was (you guessed it) Cool Whip. There is definitely Mad Men karma at work here. This episode took me on a wonderful unexpected nostalgic trip. I'll share my Cool Whip experiences first and then discuss Megan, Don  and music.
A Real Cool Whip Story
In 1966 the Birds Eye Division of General Foods was a big B&B client and I was assigned to work on the introduction of two new products….Cool Whip and Orange Plus. Tom Griffin was my account supervisor and a great mentor. (Tom later went on to found the very successful ad agency Griffin & Bacal.) Orange Plus was a new kind of soft frozen orange juice concentrate that offered convenience, great fresh taste and real pulp. Innovative for that time, Orange Plus was also introduced and enjoyed some success, but nothing compared to the sales success of Cool Whip.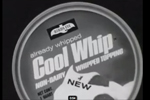 We introduced Cool Whip in 1967 and most of 1966 was spent developing and testing creative concepts. Cool Whip was an impressive, first of its kind product. It came frozen and ready to use in its own bowl, had a great fresh taste and looked like real whipped cream. Of course there wasn't anything real about it so the "non-dairy whipped topping" designation was plastered on the front label. This was an important legal consideration in our creative development. In the commercials, we did not have to list the ingredients or call out the product as a non-dairy topping in the voice over copy provided non-dairy was prominently visualized on the label throughout the commercial. The what's in Cool Whip saga continues today and was called out in a 2007 Wired Magazine article.
The Cool Whip Creative Challenge

Cool Whip did exceptionally well in taste tests and we felt confident that we could deliver on taste expectations. The creative challenge was to sell the taste and texture benefits of fresh, real whipped cream for a product that was non-dairy and frozen. We had to dispel doubts and get people to taste it. It also important to remember that the initial commercials were in black and white so appetite appeal was a bit limited. We developed a wide range of ideas and had long debates with legal about what we could say and show. We actually did spend time in the test kitchens with food scientists to help craft and clarify product language and claims. Those scenes brought back some great memories
The commercial idea that Don and Megan present to the client addressed the creative challenge through a slice of life execution and communicating that everything taste better with Cool Whip. A good appraoch and we also developed a number of concepts along those same lines.The commercial that tested best and initially made it to market took a different approach. It was called "Yum Yum Cool Whip." The spot relied on tried and true techniques : a catchy jingle,(Yum, Yum, Yum, Yum, Yum Cool Whip), appetizing product shots, and user taste satisfaction. " The First Modern Topping With That Good Old Fashioned Taste." Some of the more cynical creative folks called it "Yawn Yawn Cool Whip" since they thought it was a bit boring and silly. Here 's a link to  the 60-second commercial. Click on the picture. See what you think.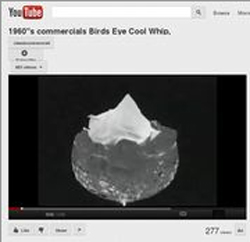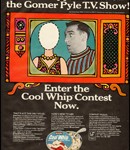 It worked. The commercial was supported by a powerful program of promotion and sampling including a promotional tie-in with the Gomer Pyle TV show. The early days of product placement. Cool Whip took off and within two years it was one of Birds Eye's biggest selling brands. Its success continues today and Cool Whip is even receiving some notarity on Family Guy and in social media. Being part of the team that helped introduce this iconic brand. Very special. Seeing it brought back to life on Mad Men. Priceless.
Megan Makes And Leaves Her Mark
Breaking into the creative department as a junior copywriter is a coveted, much sought after position at an agency. In the '60s it was extremely difficult for women to get their high heels in the door. Being accepted and recognized for their talent and quality of work was even harder. The pioneering women of that time, Mary Wells, Jane Maas, Phyllis Robinson, Joy Golden, Paula Green and others share great stories and experiences that really shine a light on just how hard it was. So, it's no wonder that Megan's decision to give up this golden opportunity to pursue her passion for acting caused some angst and soul searching at the agency.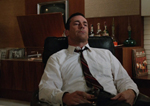 Being Don's wife helped Megan get in the door but she is winning praise and fans based on her talent, demeanor and ability to sell clients good work. Megan and Don are getting into a rhythm as an effective and charming team acting out and selling their "slice of life" tv ideas for Heinz and Cool Whip. Having a great idea is only half the battle. Selling it is just as important. Don recognizes and appreciates this dynamic, so Megan's decision to quit leaves Don feeling awkwardly perplexed. He reluctantly accepts the reality, becomes supportive and even offers to get her a job at another agency. Don is just as awkward when it comes to handling her exit from SCDP with the staff. Joan brings it all back to reality by offering to organize a going away lunch with the "girls". Megan may be a rising star copywriter, but within the patriarchal mindset of SCDP she is still just one of the girls.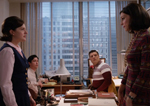 Peggy's reaction is mix of frustration, bewilderment and support. Peggy lets Megan know that she has talent, is respected and encourages her to stick it out. "There are people killing for this job." Peggy is reminded again of her own struggles to break in, how much she loves being a copywriter and has a hard time grasping Megan's decision to throw it all away. Stan's take is that Megan recognizes the cold hard reality of advertising and doesn't like what she sees. "You work your ass off for months, bite your nails, for what? Heinz baked beans?" The struggle to reconcile one's creative talents and aspirations with the commercial realities of advertising has always been part of the creative department psyche. Dick Anderson, one of the associate creative directors at B&B brought this into perspective for me many years ago. "You have some of the most talented creative people in the world selling soap to each other." Angst and frustration are part of the game.
Music, Music, Music.
Music continues to play a role in the creative action at the agency and very often is the lens through which we view Don's clash with the emerging cultural change in advertising. In Episode 3 this season we saw Don and Harry reluctantly go backstage at a Rolling Stones concert in an effort to secure one of their songs for a Heinz commercial. In a prior article on this subject I mentioned that in the mid '60s the use of music in advertising was evolving from the golden age of jingles to a new age of using popular music and music celebrities to connect brands with consumers. Don is still not comfortable with this new tune and asks "When did music become so important?
Now, Ginsberg is pushing the Cheval Blanc client to buy into a "Hard Day's Night" concept that involves licensing a Beatles song. The client loves the idea but realizes they can't license the actual Beatles music so they ask the agency to secure music that is "like" the Beatles. Don is clueless and Ginsberg suggests some options which Don dismisses. Don says he'll run it by Megan and then later suggests to Megan that they go to Danny's Hideaway for a drink and a little music. Danny's Hideaway is a mainstay, traditional mid-town New York Steakhouse that features classic jazz music. Enough said.
On a more positive note, it was nice to see Roger pass off the Head Ski account and the ski equipment to Pete with a compliment that the client requested him on the business. A truce?