This week's episode of Mad Men focuses on family, proposals and prospects with New York as the convergent center of the action. And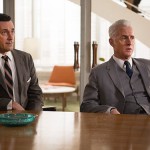 there's lots of it. Pete gets something he's always wanted, reconnects with his partners and realizes that he's "different" in New York. Jim turns the IBM 360 into a partnership for Harry over the objections of Joan and Roger while Ted continues to be a distant, largely irrelevant voice in Los Angeles. Bob Benson returns to New York as the bearer of bad news on Chevy but good news for his future career. Bob's impending move to the client side drives him to propose marriage to Joan, which is promptly rejected. Don's relationship with Megan looks like it's really over this time but Don stays committed to his new work ethic and sobriety. The Burger Chef pitch provides the catalyst for Peggy and Don to powerfully reconnect by confronting and sharing the loneliness in their personal lives and realizing and embracing their deep and co-dependent business relationship.
Bob Benson Crashes Into Town
A very confident Bob Benson arrives at the agency with the Chevy clients in tow. He receives a very warm welcome and proudly shows off SC&P's new computer as Joan looks on. They are in NYC for meetings with the networks to review television pilots and Chevy's television needs for the upcoming year. As TV budgets grew these meetings evolved into the elaborate " Up Front" extravaganzas that take place in New 
York every spring. In 1969 GM was one of the top five television advertisers and they commanded special attention, just as they do today.
These meetings always involve intense client entertainment with each network trying to outdo the other. So, it's no surprise that Bob gets a phone call requesting that he post bail for the Chevy client, Bill Hartley, who was busted for lewd acts with a male undercover officer. In a cab, Bill and Bob have a frank discussion about their mutual need for discretion and agree that this is their secret. Bill also drops a bombshell and tells Bon that Chevy is dropping SC&P: "Your agency had a successful try-out, but the plan was always to take the XP in-house." Bill's reference to "in-house" refers to the fact GM worked with a closed, select group of "club agencies" and that they would be assigning the XP to one of them, Campbell Ewald. The club agencies were a select, closed group of agencies that handled all of GM's brands and Campbell Ewald was one of the longest standing and biggest.
The agency was awarded the Chevrolet business in 1912 and continued with GM for more than 90 years. Bill also reassures Bob that he is "safe" and that he will get a job offer from Buick. McCann-Erickson is Buick's agency. When Roger meets Jim Hobart from McCann in the steam room at the NYAC, Jim already knows about the impending shift and hints at his unease. " Jim says, "You've got your little car – it's not Buick, but it's cute," and suggests SC&P wants to be like McCann. Jim also teases Roger about the futility of SC&P's plans to pursue Phillip Morris "with Don Draper haunting your halls." There are no secrets or sympathies in the small, incestuous world of "Mad Men."
Movin' On Up
When Bob and Joan get together over the weekend, Bob reveals the news about Chevy's departure and his upcoming move to Buick in Detroit. Bob says "GM expects a certain kind of executive." and he presents Joan with an engagement ring. She pushes it away and says 
Bob "shouldn't be with a woman". Bob coldly reminds Joan that she is "near forty in a two-room apartment with a mother and a little boy," and he's offering her "more than anyone else ever will." Joan says she wants love, not "some arrangement." Bob will have to look elsewhere for his cover story. Bob also tells Joan that SC&P doesn't have to worry because "the audition was a success" and that there will be another assignment coming down the road. Bob's move from the agency to the client side is something that really hit home with me. Sometimes clients will hire agency account people as a way to bring in someone familiar with their company who could add a fresh perspective to their business. That happened to me. While at DKG advertising I handled the Brown Forman Distillers account. In 1980 they hired me away from Ketchum to be President of their Jos. Garneau Division and that started to my almost ten year stint as a "client" in the alcoholic beverage and fragrance industries. A fabulous experience which Bob Benson is sure to discover.
At the agency, the partners meet to discuss the Chevy loss and Jim Cutler jumps on this as an opportunity to advance his agenda of increasing the importance of Media. He proposes, "getting ahead of this" with a "New York Times" article announcing SC&P's new computer and making Harry Crane a partner. Don lends his support, Roger and Joan object, but Cutler gets his way. Once again the agency partners rush into a decision precipitated by negative events but in this instance it seems like the right thing to do. It will be interesting to see how Harry handles the newly bestowed "respect" that he's been craving and how his relationship with Don progresses. One also has to wonder if Jim would have made this move with Harry if he knew that Harry is the "mole" that told Don about the Phillip Morris meeting? Later when Joan tells Roger about Bob's move to Buick it clicks with Roger that McCann is afraid that SC&P will steal the business. It remains to be seen if there is another car in SC&P's future.  In reality, moving Buick from McCann to SC&P is not likely. In 1958, GM's Ed Ragsdale surprised everyone on Madison Avenue when he awarded McCann the Buick business and it remained at the agency for more than 50 years.
Bonding Over Burger Chef
Peggy and her team have been conducting research with moms at Burger Chef locations as stimuli for their creative ideation. The team is ready to present their ideas and Pete invites Don to sit in on the creative meeting.  Peggy pitches her idea to Lou, Pete and 
Ted, who is on the speakerphone in LA that gets favorable reaction from everyone. Pete asks for Don's opinion. Don thinks it great and adds, "It's exactly what they wanted." Pete suggests Don deliver the Burger Chef presentation with Peggy speaking as the mother: "Don will give authority, you will give emotion."
He explains that Don is mesmerizing and Peggy can be the voice of the mother. Lou hates the idea, Peggy is pissed off and Don is willing to fill the role if needed. Over speakerphone, Ted says that he favors doing whatever it takes to win and that it's Peggy's decision. Peggy, feeling disrespected yet again, gives in. She and Don briefly discuss next steps and Don casually mentions that the campaign could also be looked at from the kid's point of view. His comment plants seeds of doubt in Peggy about her idea and sets the stage for the next Don and Peggy showdown. Later, Peggy calls Don at home, says his "kid's point of view" idea is "a loser," then accuses him of undermining her and poisoning her strategy. Don hangs up. Peggy also calls Stan to tell him she doesn't like the Burger Chef strategy. The damage is done.
The next day, Don drops in on Peggy and asks, "How's it going?" Now, totally convinced that her idea sucks, Peggy asks Don for his 
"save the day " idea. She says, "Pitching the hell out of her shitty idea and failing is not an option." With the air cleared, Don offers Peggy an olive branch of understanding and collaboration and the obligatory drink. Don tells Peggy that when he gets stuck he finds it best to start again at the beginning. Their "showdown" turns into a soul searching experience and a creative brainstorming session that is wonderful to watch unfold. Peggy asks Don how she's supposed to know when an idea is good. Don says the job is "living in the not knowing." He adds, "You can't tell people what they want. It has to be what you want."
Peggy reveals she just turned thirty, laments her loneliness and asks, "What did I do wrong?" Don says, "I worry about a lot of things, but I don't worry about you." Faced with the reality of his uncertain role at SC&P and the imminent failure of another marriage, Don confesses "that I never did anything, and that I don't have anyone." As they kick around ideas, Peggy comes up with a new strategy that focuses on family. Then, Frank Sinatra's "My Way" starts playing on the radio and Don takes Peggy's hand and they share a very poignant dance. This is one of Don's and Peggy's most touching scenes. Later, Don, Pete and Peggy meet at a Burger Chef restaurant for their own makeshift family meal. Peggy reveals her "family" strategy. Pete pushes back a little but Don backs Peggy and asks Pete, "You want it right or not?" Peggy smiles and perhaps she senses that her family is right there at the table.
Back at SC&P, it appears as if Roger and Jim are headed for their own showdown. Jim pushed Harry's partnership on Roger, the unexpected loss of Chevy and Bob Benson's role is a point of contention and their mini face off on Phillip Morris is telling. Roger says, "The brand commander of commander brand" and Jim prods Roger to get involved in the pursuit of Phillip Morris and "stop thinking about Don and start thinking about the company." Can't wait to see this eruption.
Finally, Burger Chef was again in the spotlight as Don and Peggy explored advertising themes that revolved around moms, kids and families. Here's a link to the actual "family" commercial that Burger Chef aired in 1970. "Burger Chef. We Always Treat You Right."