In this season's Mad Men premiere, it is clear that unrest, uncertainty. and uneasiness are simmering at SC&P, and in the lonely lives of Don and Peggy. In "A Day's Work", frustrations boil over, old rivalries are stoked and new flash points of controversy ignite. Valentines Day 1969 is far from being a happy celebration of affection and admiration. A bouquet of roses sets off a day of stress and humiliation for Peggy, another unannounced visit to the office by Sally brings Don closer to facing the reality of his exile from SC&P and opens the door for Joan to make assertive moves at the agency. The dysfunction of the agency has now officially spread to the West Coast, and it appears that Lou Avery's arrogance, indifference and crude behavior may even eclipse Don's role as chief agency asshole. Racism makes another appearance, and is met head on by Dawn and Joan.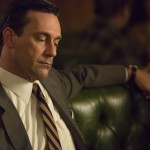 Don is still cashing checks from SC&P, and living the life of a quasi-unemployed and very bored bachelor. He is content to keep up with agency matters through after hours briefings from his almost secretary, Dawn. Don continues to keep his situation secret from his family, and guard his reputation on Madison Avenue. All of that changes in one afternoon. Don has lunch with Dave Wooster from Wells Rich Greene. They speculate about possibilities for Don at the firm, and Don reminds him that he has a contract at SC&P with a non-compete clause. These are standard contract terms for ad agency executives. Dave then mentions that rumors about Don's Hershey meltdown are "on the street" and there is speculation that he has been cut loose from SC&P. Don's secret is out. Later, Jim Hobart from McCann Erickson approaches and asks about Don's intentions with Wells Rich Greene. Don evades the question, and Jim tells him, "All the millionaires at McCann would love to tell you how handsome you are." Jim also tells them he picked up the check. So, Don receives yet another job overture from McCann-Erickson. Don brushes it off and tells Dave that he almost worked at McCann, twice. Don knows that he has options beyond SC&P but he still clings to hope of his return to SC&P.
Wells Rich Greene was an amazingly successful agency founded in 1966 by Mary Wells, Richard Rich, and Stewart Greene. Mary Wells Lawrence was one of the most influential and powerful advertising executives of the time, and a major creative force in the industry. It has been speculated that Mary Wells was one of the real "Mad Women" that inspired Peggy's character. The prospect of Mary and Don working together would have been exciting and explosive.
While Don is getting his ego pumped up at lunch, Sally drops by the office to visit her dad and encounters Lou Avery in Don's old office. A startled Lou tells Sally that Don is probably at home. Sally meets Don at the apartment and after the usual evasive lies, they both eventually confront the situation. Don comes clean, almost. His secret is out with Sally and he seems relieved. It looks like Don has no choice but to stop pretending that he's not unemployed and come to grips with his personal and professional future. Will he cling to his past in New York or follow his wife and new possibilities in Los Angeles?
Bi-Coastal Dysfunction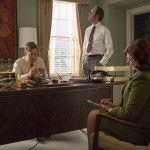 At SC&P West, Pete is certain that he will land the Chevy Southern California Dealers Association account. He celebrates the occasion with an evening of sex in the "office" with Bonnie Whiteside. The next day, Pete's evening of pleasure and celebration turns into exasperation and resentment when he announces the news to his partners in New York on a conference call. Jim Cutler makes it clear to Pete that they will have to get the blessing of the Chevy client in Detroit. Additionally, he informs Pete that he can service the account from Los Angeles but he must report into Bob Benson. The speakerphone malfunctions and Pete and Ted inadvertently listen in as the other partners argue over how to proceed. As a matter of good business, Jim's position is entirely correct. On automotive accounts, the advertising relationship between the "factory" and the dealers has always been complex. There is a natural tension inherent in balancing the factory's desire to build the brand and the dealers' push to drive showroom traffic through deals and promotions. This requires skillful management to build a cohesive and coordinated agency team. The agency's experience on the Jaguar account should have made that very clear to everyone. Roger backs down and Jim prevails. Like it or not, Pete and Bob must work well together or risk loosing both clients.
The harsh realities of this looming, uneasy working arrangement hits home with Pete and he vents his frustrations to Ted about feeling useless and unappreciated. "Sometimes I think I died… I don't seem to exist.. No one feels my existence," he says to Ted. Pete then drops a half-hearted suggestion that they start their own agency, which Ted dismisses. If handled correctly, Chevy could grow into a massive account by adding other dealer associations and new brand assignments from GM. The return of Bob Benson is eagerly awaited.
Peggy Melts Down, Joan Moves Up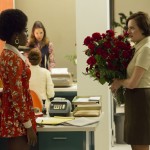 Peggy continues to struggle on all fronts. Given the upheaval at the agency and the stress of her personal life, Peggy is sinking under the weight of the job. Peggy still harbors resentment towards Don and she is letting her animosity towards Ted seep into her work at the agency. For Peggy to succeed as copy chief she needs to be a motivator and mentor to the creative teams. She also needs some mentoring and support from her creative director. She is having difficulty managing her creative teams and has failed to generate any support or respect from her new boss, Lou Avery. Her meltdown about the Valentine's Day roses and insistence that her secretary, Shirley, be replaced is certainly out of character for the usually confident and considerate Peggy. Lou has all the earmarks of the old school, egocentric, creative directors of the Mad Men days and it's doubtful that Lou Avery will change. The prospects of either Don or Ted coming to the rescue any time soon are also dim. At the moment, Peggy has no one to turn to but herself.
Joan continues her forward progress and again rises to the occasion. She is thrust into a series of personnel issues that unmask racial tensions at the agency. Lou reprimands Dawn for being away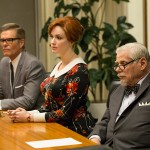 when Sally came to the office and her "allegiance" to Don. He summons Joan and Dawn to his office and crudely tells Dawn that she is no longer his secretary. "Don's mess is not his problem." Dawn eloquently and forcefully rips into Lou and Joan is impressed. After Joan moves Dawn to the receptionist area Bert Copper objects. "People can see her from the elevator," he says. Then, fresh from her roses tirade, Peggy insists on a new secretary requiring Joan to "relocate" another employee. While Joan is venting, Jim comes into her office and realizes that she is juggling both human resources and the Avon account. He suggests she take an office upstairs and work exclusively on accounts. Joan jumps at the offer and wastes no time in moving her stuff up stairs just as Roger is leaving his office. Perfect. Then, as final gesture, Joan places Dawn in her old office. Brilliant.
Who's In Charge Here?
With Don out of the picture, Ted in hibernation in Los Angeles and Roger even more distracted by his new found "liberation", Jim Cutler is assuming a more proactive leadership role. Jim clearly has written Don off at SC&P and refers to him as "our collective ex-wife who still receives alimony." His assertiveness regarding the Chevy account forces Roger to back down and again loose standing with the partners. Jim's unilateral decision to officially recognize Joan's account status on Avon and relieve her of HR duties is a major move that clearly should have been discussed with the other partners. Inviting her to occupy an office on the executive floor is sure to ruffle feathers, especially Roger's. In the elevator when Roger tells Jim that he set Pete straight about Chevy Jim says, he's glad to hear it. Jim adds, "I'd hate to think of you as an adversary." Agencies need strong leadership to grow and prosper. A leadership vacuum demoralizes an agency and a divided management always leads to disaster. SC&P is at another leadership crossroads. Whether Jim is offering is an olive branch or a making a threat remains to be seen.
The stage is set for big changes on both coasts.