True to its title, "Favors" revolves around key characters requesting, providing, or receiving personal favors. The Vietnam War is the catalyst for the chain of "favors" between Don, Sylvia and their kids, Sally and Mitchell, at the epicenter. These expected and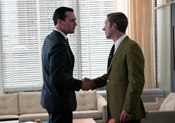 unexpected favors interconnect and triangulate agency business, personal relationships, and family ties.Sally is the victim of the collateral damage brought on by Don's impulsive, self-destructive "comforting" of Sylvia. Sally's already tenuous relationship with her father is severely strained, and she holds the key that can unlock the Pandora's box that Don has dreaded. Over at the Time-Life building, the partners at Sterling Cooper and Partners are still not behaving like true partners. The clash of working styles, egos and turf battles continues but things could be changing. Hopefully the mutually beneficial détente between Don and Ted will last, and Roger will start reading Jim and Ted's interoffice memos. Peggy's chat with Pete's clueless mother Dot makes her confront past transgressions. She handles it well and Peggy's "They're sure taking a long time with that tea" comment to Dot is priceless.
It also looks like Peggy and Pete are on the road to a better understanding and a more positive codependence unless Bob Benson's knee rub sends Pete spiraling out of control. Pete also delivers one of the best lines of the episode when he chastises Bob about his mother's caregiver, Manolo. "I told you we needed a nurse and you sent us a rapist." Now that Bob has, kind of, come out as gay (or bisexual) Joan might be set up for yet another relationship crash. Ken is still MIA in Detroit.
The First Favor
It's clear that Don is not in favor of the Vietnam War, but he keeps a relatively low profile with his beliefs. Don arrives home, and finds Megan sitting with Mitchell Rosen, Sylvia's son. After Mitchell leaves, Megan tells Don that Mitchell's draft status has been reclassified as 1A after expressing his opposition to the war by sending back his military draft card in protest. Megan is very concerned but Don tells her to drop it saying, "It's not our problem." Later, Arnold stops by to apologize and he and Don go out for a drink. Arnold asks Don, "What would you do? Blow someone up by accident, and take his identity?" That hits close to home with Don, but he only gets spurred into action when Arnold tells him how emotionally distraught Sylvia is about Mitchell's situation.
Now Don adopts it as his problem. In true Draper fashion, he turns it into an opportunity to reopen the door to Sylvia's bedroom.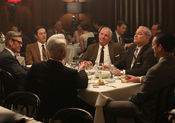 Don asks Pete if he knows "someone who can really pull strings" to get a deferment. Pete suggests talking to General Motors, "one of the largest defense contractors in the world" at an upcoming dinner. Even in his smitten state, Don should have known that this is bad advice. Politics and clients do not mix well. Roger, Don, Ted and Jim are charming the clients with airy small talk. When the conversation turns to fishing with their kids Don finds his opening to bring up a friend's son who is panicked and trying to sidestep his 1A status. When the Chevy client says, "We know about that. It makes me sick", the conversation turns decidedly negative. Everyone knows that the usually engaging Don Draper has blown it. The repercussions spill over to the office the next day and to the Drapers' dining room the next evening.  At the agency, there's a silver lining in this dark cloud. At home, the dark clouds become even more ominous.
The lack of coordination and collaboration continues to hold back progress at SC&P. Don and Roger routinely resist Ted's efforts to bring the two agencies together. Things come to a head over two blatantly conflicting new business opportunities. It's common knowledge to everyone (but Don & Roger) that the agency has been working on a pitch for Ocean Spray. Ocean Spray is a brand owned by a New England grower cooperative dramatically expanding its business in blended juices. In 1968, Ocean Spray moved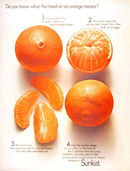 its business from DDB and when I arrived at DDB in 1970 the agency was still smarting from the loss. Ted is working on the pitch with Peggy and Pete and the agency has already invested $5000 in agency funds on research. On the other side of the floor, Roger is giddy with satisfaction juggling oranges sent to the agency by Sunkist. On the other side of the continent, Sunkist is a fruit and juice brand owned by a California grower cooperative also interested in expansion. "We're in it", Roger says, realizing their LA trip wasn't a total bust. He suggests they do some preliminary research and tells to Don to "get the idea factory going." Don, nixes the notion of research because he already has the answer. Don suggests the agency recommend that Sunkist move away from exclusively running print advertising and exploit the growing impact of color TV with a dramatic TV campaign featuring, of course, the orange color of the "orange."  They agree and set the wheels in motion for Harry to explore TV options. It's important to remember that in 1968 black & white TV sets far outnumbered color sets and the use of color commercials was not yet mainstream. Color commercials were more costly to produce and the networks charged a premium to run them. In 1968, I was working on P&G brands at Benton & Bowles and we were just beginning to move to color TV commercials. Don's recommendation is a bold one.
An impromptu partners' meeting erupts in the hallway. Pete reports progress with Ocean Spray and Roger says "What about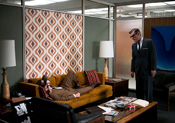 Sunkist?" Surprised, Ted and Jim pop out of their offices and they all have a heated discussion about which account is bigger, better and agency funds invested. It's obvious the agency cannot pitch both accounts. Don and Roger are taken to task for isolating themselves and not having read the countless agency memos about Ocean Spray. Don is indifferent and Roger pleads, "I honestly didn't know." Ted forcefully tells Don, "It's time for you to join this company and read a memo once in awhile," and storms off.  In his office, a frustrated Ted lays down on his couch for a therapy session with Jim Cutler. Jim says they'll end up with one juice and tells Ted. " I warned you about memos, the more you send the less they read. " Ted says, "I don't want his juice, I want my juice," to which Jim responds, "It's all our juice." Ted shoots back, "Tell him that." Boys will be boys.
Stop The War
At dinner after an Ocean Spray meeting, Ted tells Pete and Peggy, "This is the agency I always wanted, ambition, brains and beauty." The orange vs. cranberry juice skirmish and Don's behavior at the Chevy dinner soon bursts Ted's ideal agency bubble. Ted confronts Don about his earlier bravado to be absent from Chevy until 1970 and then suddenly surfacing at dinner. He accuses Don of "trying to poison my relationship" with Chevy by discussing the war for selfish reasons. When Don explains the situation, the nice guy side of Ted emerges. Ted asks, "Did you ever think about talking to me instead of our most important client?" Ted says "I bet you don't have a lot of friends, Don, so I'll assume this is important," and offers to contact a brigadier general in the Air National Guard. Ted tells Don to have Mitchell write a letter and cut his hair and he'll make the ask.  Don is stunned that Ted would do this for him and Ted seizes the moment brilliantly. In return, Ted demands that Don "Stop the war you are waging on me" and embrace the fact that they are both on the same side. Don agrees to give up the Sunkist pitch and to bury the hatchet. They shake hands and Ted says, "This is not a handshake of gratitude. Consider it a binding contract." Brilliant. Détente at last?  Things don't turn out as well on the home front.
The Sins Of The Father
Don tells Sylvia about the almost done deal he's arranged for Mitchell and she is overcome withemotion and gratitude.  Don finds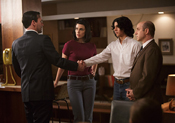 a way to turn comfort into a coital encounter but this time Sally literally catches her father with his pants down. The shared pain and panic of Don, Sylvia and Sally are crushing. Later, Arnold and Mitchell show up at the Drapers to express their gratitude to their hero, Don, and Sally storms out telling Don, "You make me sick." Don feebly tries to tell Sally that she didn't really see what she saw. In some ways Sally's passing thru puberty experiences echo Don's troubled boyhood. New York City has been the scene of a few adult awakenings for Sally. In season five's "At the Codfish Ball," finding Roger Sterling in a very compromising position with Megan's mother ruined Sally's big night out with Megan and Don. Next, Sally was left alone at Don and Megan's and threatened by a burglar. Now Sally has to decide what she really saw at the Rosen's apartment. Sally realizes that her father has placed her in the eye of the storm. How she handles this will dramatically affect the future happiness and stability of everyone she cares about. Thanks dad.
The Viet Nam War rages on. The warring SC&P partners may have found common ground. Don faces the toughest battle of his life….confronting the truth with Sally. A big episode ahead.