Article first published as TV Review: Mad Men – "The Crash" on Blogcritics.
"The Crash" takes SCDPCGC on an "energy serum" induced "trip" that is bizarre and largely disconnected from reality. The catalysts for all the bizarre behaviors are the increasingly difficult demands that Chevy is placing on the agency and the death of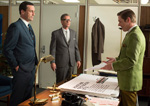 Frank Gleason. While these are real issues, just about everything else that happens at the agency is surreal and weird. The only people who escaped the insanity are Peggy, Ted and Pete, but it would have been interesting to see Joan racing through the office cubicles and Roger doing one-handed push-ups. From the opening joy-ride scene with gun wielding, drunk GM executives crashing their Impala, this Mad Men episode is a rapid succession of disorienting events involving quack doctors, speed trips, sex, seemingly irrelevant characters (Wendy and Grandma Ida) and Don Draper flash backs to his youth. "The Crash" continues Don's mental unraveling as a creative force, lover, husband, parent and also introduces questions about his physical health.
The Detroit Trip, To Hell And Back
Chevy is the reason the merger between SCDP and CGC happened.Major accounts like Chevy usually dominate an agency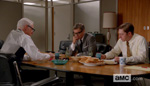 financially and operationally as well as influence their creative output and reputations. Under the best of circumstances the launch of a new car is a long, laborious process of strategic definition, creative development and exhaustive testing. In this instance drunken, out-of-control managers heighten the difficulties of working with a notoriously bureaucratic GM. Over the years there have been some great stories about automobile company marketing executives behaving badly and, even by those standards, Ken's experience is a bit over the top. As the lead account person on Chevy Ken is the primary point of contact in Detroit and it appears as if the Chevy team prefers to evaluate all the agency's creative directly with him. This places a very big burden on Ken, since he feels the pressure from both the client and the agency. A bad creative meeting results in Ken getting beat up in Detroit and New York. When Ken reports back to the agency that the client doesn't like its latest round of creative work, he encounters frustration and criticism from all sides. Don comes on very strongly and snaps at Ken, "It's your job to sell it."
This kind of account man responsibility was common in the '60s and that is how I operated as the lead account person on my accounts at DDB. I feel Ken's pain and frustration. Agency folks have always found interesting ways to relieve the pressure and keep the creative juices flowing, especially in 1968. Jim Cutler's solution of inviting Dr. Hecht, his personal Dr. Feelgood, to the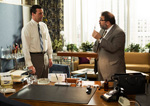 agency to administer a speed laced vitamin treatment is definitely an interesting intervention. Dr. Hecht seems to be the Mad Men version of Dr. Max Jacobsen, an Upper Eastside doctor who was known for administering his "miracle tissue regenerator" serum to celebrities and other members of New York City society. Dr. Hecht promises Don "24 to 72 hours of uninterrupted creative focus, energy and confidence." He forgot to mention the incoherence, hallucinations and paranoia that go along with the amphetamine induced energy burst. Ironically, the good doctor delivers one of the few moments of clarity in "The Chase." He tells Don, "All anybody wants to know is what you're going to call this place. SCDPCGC? That's a mouthful." Maybe we'll find that out next episode.
Reality Bites Deeply
Ken limps into the agency to deliver the results of his ill-fated Detroit tripto the partners who are busy in a Chevy brainstorming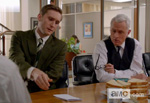 session. In addition to telling the partners that the latest round of creative work was rejected he delivers a client perpared calendar with three years of monthly creative and testing guidelines. Ken declares the "All work must be run up the ladder through all of GM until it gets to God, and then he's gotta run it past his wife." These new deadlines require the agency to come up with a bunch of new ideas quickly which means they will have to work all weekend. The  partners bristle at the regimented, layered method of working and the extended timetable that will delay the production of their work for many months. Don is particularly upset with this reality. He prefers the way it used to be. Come up with the big idea, personally sell it in, get it on the air fast and rake in the commissions. Cutler reminds them that "this is what GM is paying us for" and they have no choice but to play by GM's rules.
Also, since it is likely that, in reality, the car they are working on is the Chevy Vega, the agency doesn't have a particularly long-term future with GM. Everyone is also saddened to learn of Frank Gleason's passing and that hits Ted Chaough pretty hard. Ted excuses himself from the weekend of work in order to mourn the death of his friend and partner leaving Don in sole command of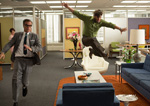 the weekend work session. Jim Cutler conjures up his Dr. Feelgood solution for the weekend and everything goes downhill from there. The craziness that ensues is non stop….Cutler and Stan racing around the office, the creatives playing William Tell with X-actos, Stan coming on to Peggy, Gleason's daughter Wendy searching for Don's heartbeat and mourning her father's passing by screwing Stan (while Peggy and Cutler watch), Pete's surreal tap dance. These antics are strange sideshows to Don's trippy, muddled, flashback-driven reactions to Dr. Hecht's injection. Don's flashes of creative energy and bravado are disjointed and confused. He has trouble separating his thoughts about Chevy with efforts to win back Sylvia. His pep talks to the creative teams are simultaneously inspiring and confusing and reinforce Don's convictions that only he has the chops to save the day. "In my heart, I know that we cannot be defeated, because there is an answer that opens the door." Then after a flashback he adds, "I've got it." and leaves. Along with Don's confidence that he has the big idea at his fingertips is his belief that only an "in the flesh" presentation by him can do it justice. He tells Ken, "The timbre of my voice is as important as the content."
When the weekend is finally over, Ted reviews Don's big idea and the rest of the work and declares it all a mass of gibberish and remarks that they even incorrectly spelled Chevy. By this time Don has regained his footing and shoots back at Ted that he is finished with writing ads and that he will fill his role of creative director by reviewing the work of others. His parting comment to Ted is classic Draper cockiness. "Call me around 1970 when they're ready to make an ad." In an obvious reference to Jaguar he adds, "I'm sorry, Ted, but every time we get a car, this place turns into a whorehouse."
A Not So Sweet Home
While all the office antics are happening Don is not faring much better on the home front. Don's three kids are left alone in his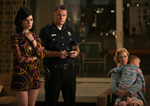 apartment to fend for themselves while he spends the weekend at the office and Megan paints the town red with her entertainment friends. An intruder, Grandma Ida, intimidates the kids and robs them blind necessitating a visit from the police, Betty and Henry. This one-two punch hits Don and Megan hard and places Betty in the unusual position of being the responsible parent. Two pointed and memorable lines come from the kids. Don's son asks, "Are we Negroes?" referencing Ida's insistence that she is their grandmother. Sally tells Don "I asked her everything I know. She had an answer for everything and I realized I don't know anything about you." She is not alone.
Finally, Don's cold shoulder, Monday morning encounter with Sylvia in the elevator would seem to indicate that his obsession with Sylvia is behind him. With Don, nothing is ever what it seems.